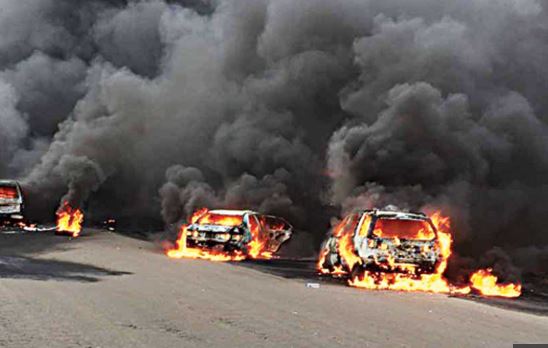 The Lagos State Government has restricted tankers to designated trailer route after the sad Otedola bridge fire incident on Thursday in the state.
The government also gave 30-day ultimatum for articulated vehicles to obtain road worthiness certificate, Sunday Punch reports.
The explosion claimed lives and property.
A press release signed by the Chief Press Secretary, Habib Aruna on Sunday, states that the government also said it was now mandatory for all articulated trucks coming into Lagos to obtain the Ministry of Transportation's Road Worthiness Certificate at any of the designated centres within the next 30 days.
Addressing a joint press briefing at the Bagauda Kaltho Press Centre in Alausa after meeting with all the relevant stakeholders, including Nigeria Union of Petroleum and Natural Gas Workers, Association of Maritime Truck Owners, Petroleum Tanker Drivers, National Association of Transport Operators, and Container Truck Owners Association of Nigeria, among others, the Commissioner for Transportation, Mr. Ladi Lawanson, said the decision became necessary following preliminary investigations into the incident which revealed a combination of vehicular defect and human errors.
Lawanson said:
"As an immediate response to the latest incident, the Lagos State Government hereby announces the following measures: Fuel tankers are hereby directed to ply the designated trailer route, that is, Apapa-Oworonshoki Expressway via Ogudu to Lagos-Ibadan Expressway.
"All tankers and containers coming into Lagos State from henceforth are directed to obtain the Ministry of Transportation Certificate of Road Worthiness at any of or centres within the next 30 days, while new centres along the Lagos-Ibadan Expressway will be established to quickly to cope with the expected demand for this service."
He listed the 10 centres currently available to process the applications to include Berger, Ojodu; Odogunyan, Ikorodu; Agric/Ishawo Road, Ikorodu; Worksyard, PWD, Shogunle; NCI, Gbagada; VIS Yard, Oko-Afo, Badagry; VIS Yard, Ayobo-Ipaja; Test Centre, Badagry; VIS Yard, Epe; and VIS Yard, Oko-Oba
Copy the link below and Share with your Friends: