General Overseer of the Fingers of God Church, Lagos and son of the late renowned magician, Professor Peller, Bishop Kayode Joseph Abiola Peller has accused Chris Oyakhilome and TB Joshua of being magicians.

Peller said Joshua, Senior Pastor of The Synagogue Church of All Nations and Oyakhilome, Christ Embassy founder, their eyes with demonic powers in them to superimpose their thoughts into people.

This statement was made in a recent interview with FLIP TV

"What I see Temitope Joshua do from my own magic experience is what we call mesmerism. It is also called hypnotism," he explained.

He claimed that while T. B. Joshua uses Kabballah magic to hypnotize his congregation and the general public over his miracles, Chris Oyakhilome's association with Joshua makes him a suspect."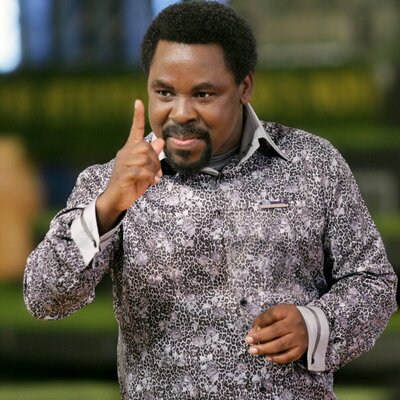 "That is what we call telepathising: I mean, when I see them do their drama of healing while dancing from one side to another. I know its hypnotism.
"These are dangerous occultist words. Telepathising, hypnotism, occultism, kabbalah magic are processes of ruling the minds of weaker men. It could go to the length of seeing the magic maker in the dreams once the weaker person allows the demonic spirit of the conjurer to influence his mind."
"Foundation of deceit, occultism and demonic power cannot stand the test of time when the owner leaves. Jesus will deny them on that day.
"God only can say if Joshua is a real man of God. I don't judge them; only God can do that.
"Having said all these, I have nothing against them. For I feel that nothing can be except God allows," Bishop Kayode said.
Copy the link below and Share with your Friends: