Natives of Abakaliki, Ebonyi State, particularly those at Agbaja Unuhu area, are still in confusion as to why a father of eight would set his home o fire to kill a set of triplets that God blessed his family with recently.
Chinedu Okpuru Mgboke, a 45-year-old aluminium fabricator, was claimed to have set his leased apartment on fire following a meek disagreement between him and his wife.
Sephora News found that at the centre of their misunderstanding, was, who should be in management of over N3 million given to the couple as support by the Ebonyi State government through the Ministry of Women Affairs and Social Development, after the delivery of the triplets.
The woman was delivered of the babies about five months ago at the Alex Ekwueme Federal University Teaching Hospital, Abakaliki (AE-FETHA), where the notice of the government was attracted to pick their medical bills.
A resident of the area, Mr Okemini Isaac, told a reporter that the problem came to a head that fateful day, after the man's wife; Mrs Chinyere Okpuru went and withdrew the sum of N20,000 from the bank for their expenditure. But on reaching their house, her husband reportedly demanded part of the money which she immediately gave to him.
According to Okemini, after some time, the man started shouting in anger and in the process threatened to kill the babies to close that source of assistance and invariably end his wife's alleged embarrassment to him. The man felt that the small money put under his wife's control had given her some measure of power over him.
Our source revealed that as soon as the woman whom he said did not take her husband's show of anger threateningly, stepped out of their house for a task, the husband purportedly took a container of kerosene, poured the content inside their house and put it on fire.
He added that the saving grace was that his wife came back almost immediately as the fire was gradually becoming intense, and upon her discovery of the husband's unpleasant action, raised the alarm and through the help of their neighbours, the fire was controlled while the children were rescued unhurt.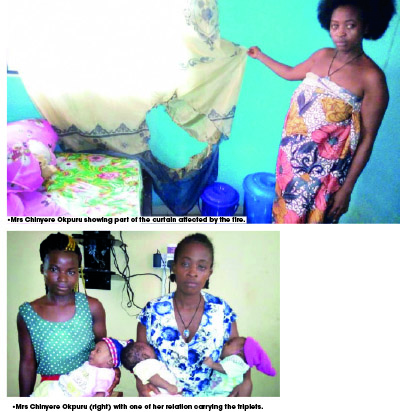 By this period, some upholstery, their curtains and some other items in the room had been affected by the fire.
Recounting her ordeal to our reporter, Mrs Okpuru said:
"My husband has been in this habit of maltreating me before the birth of these triplets, by then I was a hawker, selling canned drinks at motor parks and each time I returned without remitting money to him, he would simply throw my remaining wares outside, upturn my hand bag and seize any money found in it.




"On that fateful day, I went and withdrew the sum of N20,000 and out of the amount, the sum of N5,000 was given to him in spite of the fact that he could not use it for something else than alcoholic drinks, this is the reason I did not take his scolding seriously until when I discovered through his action that he really wanted to kill the children, I then raised the alarm."
Copy the link below and Share with your Friends: